Heavy Metal Business Intelligence: A Visual Data Exploration of Metallica's 30 Years on the Road
Little Data Project of mine that has grown considerably since it was launched.
Here are all my
Tableau visualizations
for
Metallica Touring and Song Metrics
(or whatever you want to call them)
. It's a big data mash-up built and maintained using Python scripts, Microsoft SQL Server, Excel, some manual research, data warehousing and
(of course)
Tableau Public
- but I'll keep all the tech-y stuff for a different page, this one is all about the data.
UPDATE: I'm "Smart Filtering" by visitor country using dynamic Tableau parameters now. Looks like you're from United States. If that's all you want to see, then please check out the "Shows in Your Country" page below for United States shows!
"Bay Area Thrash since 1981""
In the above dashboard you can see a VERY high level overview of Metallica's live career. If you click on a point on the line graph it will change all the other windows to align with shows from that year.
NOTE: All these reports are constantly changing and being added to, this is my attempt at organizing some of them in a more "visual" way so that the more standout and newest reports will be easy to find.
For other Metallica analytics, reports, setlists and views - see below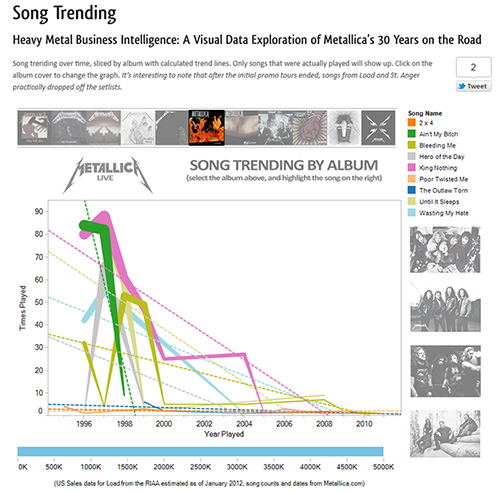 Interactive graph showing song trending over time, sliced by album (with calculated trend lines). Note: Only songs that were actually played will show up.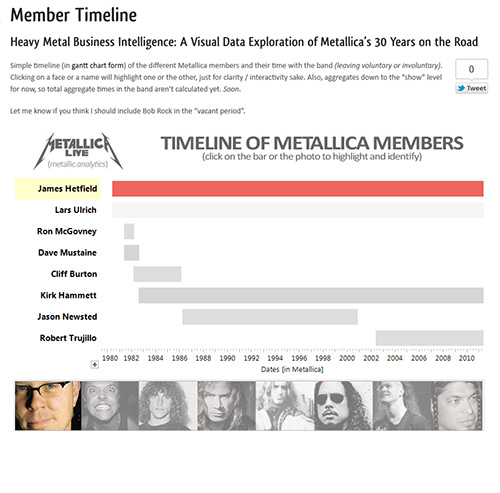 Simple interactive timeline (in gantt chart form) of the different Metallica members and their time with the band.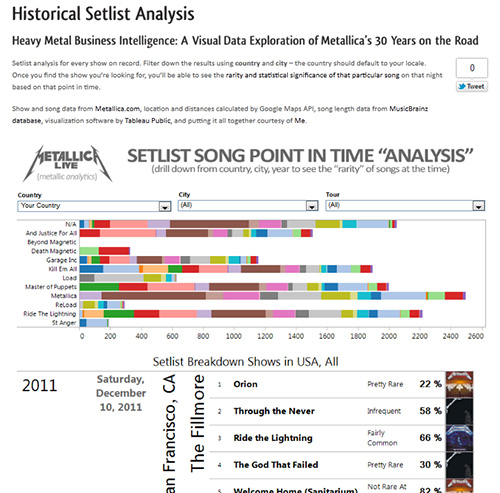 Interactive graph and cross-tab showing the songs that were performed at a particular show, as well as the historical breakdown of each song. Percentile, probability, and literal "rarity" of that song on that night (based on all previous shows before that night - more info about the calculation here; geek alert).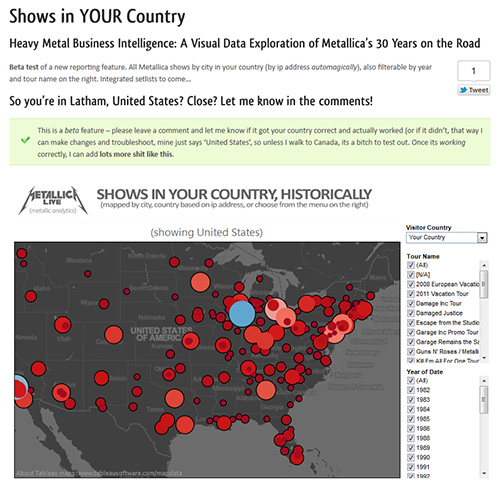 Map of shows (by city) in your country. If your country was incorrect, or you just want to browse the globe, use the "Country" drop-down to change focus.
("your country" calculated by ip address, so it might not be 100% correct in all instances)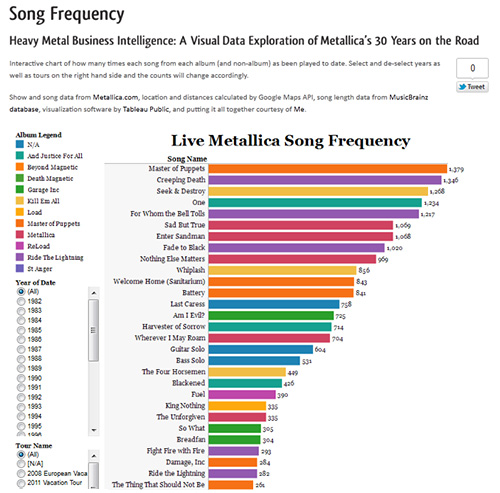 Interactive chart showing how many times each song has been played over Metallica's history of live shows. Filterable by Album, Tour and / or Year of show.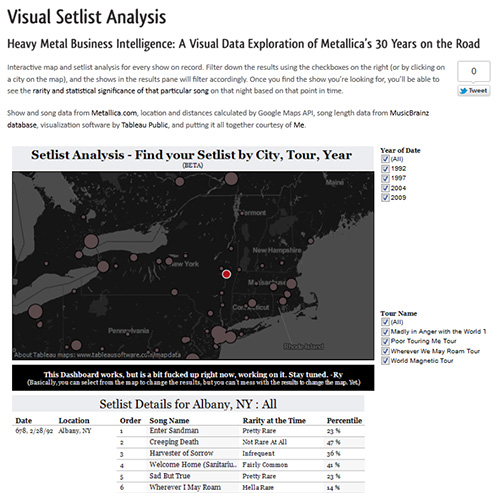 A work in progress - this data will be in a much more useful and user friendly report soon. A drill down map in order to filter to a specific list of shows at a venue. Percentiles calculated for each song on the setlist, showing the "rarity" of that song at that point in time. (For a better explanation see this post on the calculation that was done)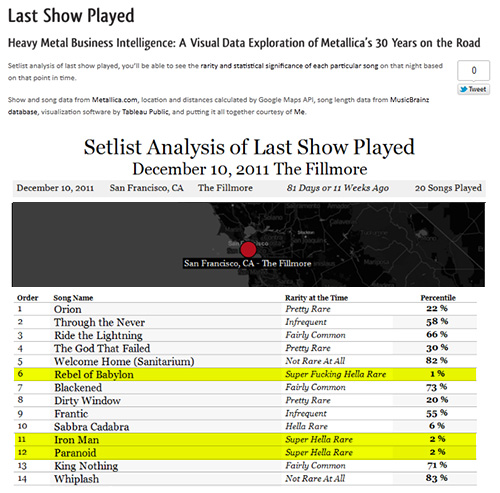 Another work in progress Setlists analysis of the last show Metallica has played. Percentiles calculated for each song on the setlist, showing the "rarity" of that song at that point in time. (For a better explanation see this post on the calculation that was done)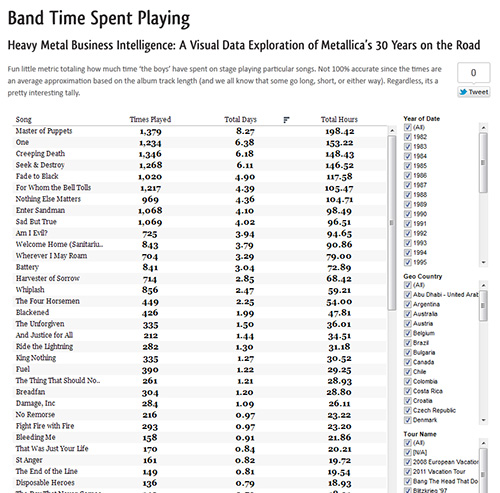 Interactive cross-tab showing (hypothetically) how much time Metallica has spent playing each song on stage during their live careers.

Shows in the US over the years, by state. Filterable by Year of show and Tour name.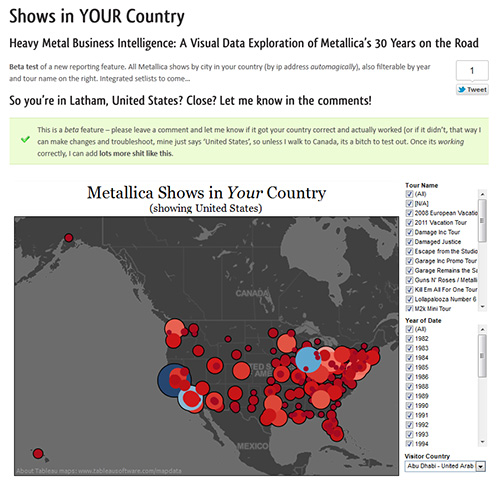 Showing only the shows that took place in your country, United States (by city). Country code figured out automatically using you ip address.

Looking for Metallica shows in Argentina, Australia, Austria, Belgium, Brazil, Bulgaria, Canada, Chile, Colombia, Costa Rica, Croatia, Czech Republic, Denmark, Estonia, Finland, France, Germany, Greece, Guatemala, Hungary, Iceland, India, Indonesia, Ireland, Israel, Italy, Japan, Latvia, Lithuania, Mexico, New Zealand, Norway, Panama, Peru, Philippines, Poland, Portugal, Puerto Rico, Romania, Russia, Serbia, Singapore, Slovakia, Slovenia, South Africa, South Korea, Spain, Sweden, Switzerland, Thailand, The Netherlands, Turkey, UK, USA, Venezuela?
Even More Metallica Reports, Setlist, Analytics: